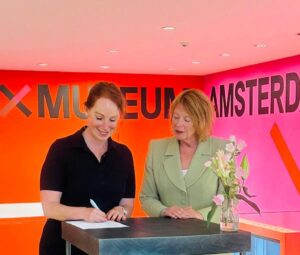 22 June 2023
The contract signing of Amsterdam Museum and ELJA Foundation
This week, Judikje Kiers, the Amsterdam Museum's General Director, received Janneke van der Wijk, Director of the ELJA Foundation, at the Amsterdam Museum on the Amstel River for the contract signing.
They signed the plans for the ELJA Children's Museum Lab, which will launch at the end of August this year. The ELJA Children's Museum Lab is a groundbreaking and innovative program in which children play a significant role. During LAB sessions, children from all eight districts of the city, together with museum staff, will lay the foundations for a children's museum. They will also create artwork reflecting on their lives in Amsterdam in collaboration with well-known artists from the city.
The ELJA Foundation is looking forward to the start of this wonderful project in collaboration with the Amsterdam Museum!