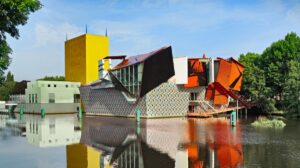 12 April 2023
Signing contract ELJA Groningen Museum Tour
The Groninger Museum and the ELJA Foundation are starting a major joint project and will travel to 150 villages and towns in Groningen over the next three years. The contract for the ELJA Groningen Museum Tour was signed last week by Andreas Blühm (Director of the Groninger Museum) and Janneke van der Wijk (Director of the ELJA Foundation).
With a mini-museum filled with art, museum educators, and a wonderful program with art workshops and other activities, they will enable children and young people throughout Groningen to actively get to know and work with art. The focus is preparing for the Children's Biennale in 2024, for which the central theme will be 'A Better Place'. Children will engage with this theme in the caravan program, and then special children's ambassadors will be paired with artists from the Children's Biennale. Head of Participation and Education at the Groninger Museum, Ellis Hendriksen, delivered a presentation about the project at this festive occasion.
The official launch of the ELJA Groninger Museum Tour will take place in Stadskanaal on May 10.
Would you like to know more? Visit ELJA Groninger Museum Tour.
Or email tour@groningermuseum.nl