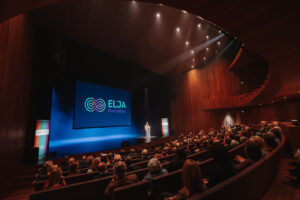 28 October 2022
Launch of the ELJA Foundation
The launch of the ELJA Foundation took place at the Singer Laren on Thursday, October 27. Founder Mrs. Els Blokker-Verwer opened the program with a moving speech, and director Janneke van der Wijk presented the Foundation's plans and ambitions.
There were heartwarming performances (including by Jeangu Macrooy), beautiful stories (also by Gershwin Bonevacia), and inspiring contributions by Erik Scherder and the various partner organizations. The focus was on children, young people, music, dance, and the visual arts. On this special afternoon, the ELJA Foundation's very first ten projects were announced.
This first set of projects involves the following cultural partners: Amsterdam Museum, Groninger Museum, Royal Concertgebouw Orchestra, ISH Dance Collective, Maas theater en dans, SALLY Dansgezelschap Maastricht, Pilotmuseum M.